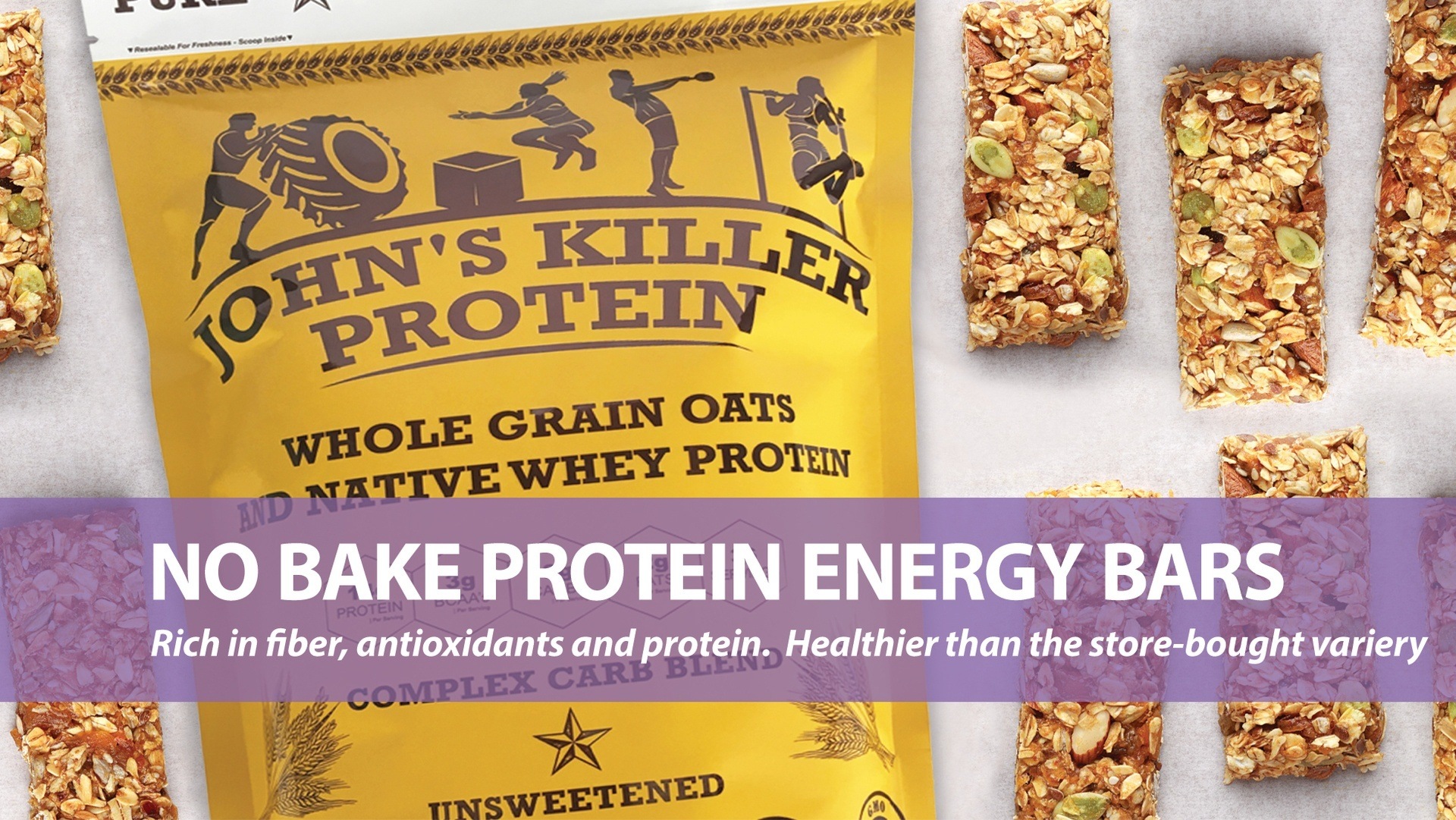 An easy, no bake protein energy bar recipe that's ready in under 20 minutes!
A redo of our original no-bake protein bars recipe, this recipe is adjusted by adding dates to make our bars slightly sweeter and more chewy!  Our home made, no-bake protein energy bars are easy to prepare, delicious and so healthy, that you won't ever crave the store-bought variety again.  We created this recipe to yield a healthy snack that is naturally sweetened, soft, high in fiber, antioxidants and vitamins, and packed with protein.  This easy no bake healthy snack is also gluten-free!
Recipe makes 10 Bars.  Each bar is approximately 50g.
Stored in your freezer in a Ziplock bag or airtight container, these bars will last about 3 weeks.  Otherwise we recommend consuming the bars within 5 days.
Macros Per Bar: Fat: 7g  Protein: 11g  Carbs: 33g
Ingredients
1½ cup Dried Plums (Prunes) (200g)
½ cup Dates (80g)
1 cup Almonds, roughly chopped (120g)
½ cup whole grain instant oats
¼ cup Mixed Seeds (35g) – we used an equal amount of sesame, flax and pumpkin seeds
4 scoops (100g) John's Killer Protein® Complex Carb Blend. Our blend of whole grain organic oats and grass fed protein.
½ cup Cranberries (50g)
Instructions
Add dried plums, dates and half of the almonds in a food processor and pulse for a few seconds until you get a sticky, well blended paste.
Transfer this paste into a bowl and add the rest of the ingredients. Mix well!
Line a 8×9 cake pan with parchment/baking paper and Spoon this mixture into your pan.
Press firmly into the pan so the mixture will take the shape of the pan. It's important to press firmly so the bars don't fall apart when cut into pieces later.
Place pan in your freezer for at about 60 to 75 minutes.
Remove pan from freezer and place cold mixture onto slicing block. Slice bars into 10 equal pieces.
Wrap each bar in parchment paper or cling film and place them in a zip-lock bag or airtight container.
Enjoy one of your home made bars when on the run, as a pre-gym snack or when those 3:00 pm cravings strike.
Have a comment or question? leave us a reply below, we'd love to hear from you!
John's Killer Protein® Item used in this recipe